Cylinder presses - mod. CL-P
PURPOSE
Cogelme Cylinder press effectively cost saving equipment, that excellent presses and perforates plastic bottles, Tetra-pak, metallic cans, spray, etc.
It remakes the technical characteristics of the material, turning it to valuable product for better and simpler further it's processing.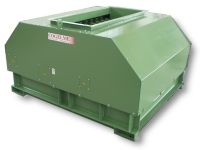 CUSTOMER'S ADVANTAGES
immediate compression without waiting, even for big quantities of material - till 5 tons/h. of plastic bottles;

the plastic isn't destroyed or ruined, maintains it's value and it makes more simple and precise optical selection;

ability to press the PE;

elimination of the bottles that roll and fall down from the conveyor tapes;

there is no breakage of iron threads of presses bales because there is no bottles with compressed air inside;
low consumption of electricity that optimally saves your costs;

reducing of the material volume;

the machines are engineered for minimal and easy maintenance and smart operation day to day process;

it is possible to destroy bottles or cans with the products inside;

can be used independently or easily integrated in your total system to improve your materials processing;

Cogelme cylinders presses are completely custom-designed to fully meet your specifications.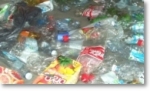 pressed bottles
CUSTOMER'S RESULTS
The materials are completely pressed without damages and are optimally prepared according the international standards for the optical separation or further processing. Not only that, but also saved client's cost's and increased processing capacity.
Visit our New site WWW.COGELME.IT