Visita il nuovo sito - Visit the new site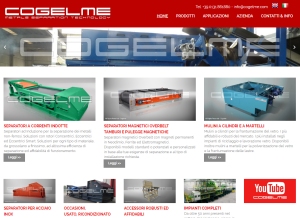 GLASS CRUSHER PURPOSE
Cogelme Cylinder mill effectively cost saving equipment, optimally grinds high volumes of glass bottles after they have been cleaned from the wood, metals, plastic and etc., and perfectly destroys bottles or jars with the products inside.
Cogelme Cylinder mills are ideal for bottlers, recycling canters, restaurants, hotels municipalities, in fact anywhere glass containers, beverage cans or food containers are a problem.
HOW GLASS CRUSHER WORKS
The glass bottles, passing through the machine, are crashed in pieces to the optimal dimensions, which are required by glass-workers. Already crushed glass can be cleaned one more time: the necks of the glass bottles are crushed and all covers of metals, of cork and of plastic can be removed.
The Cogelme rolls glass crusher is able to destroy bottles or jars with the products inside: in these situations it's possible to install a system of cleaning glass by water. These machines have an income-mouth with various widths, from 300 mm. to 1.000 mm. and crush from 6 to 24 tons of glass per hour.
The cylinders glass crushers are used by the main recyclers and by the most important Italian and foreign glass-workers.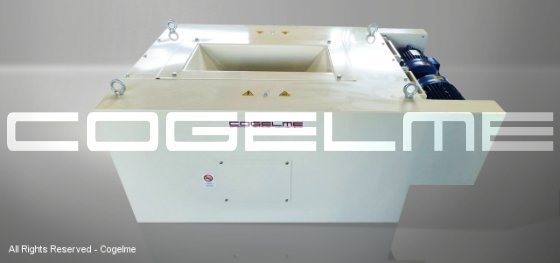 GLASS CRUSHER ADVANTAGES
materials are crashed to the optimal dimension required by the glass workers and has a high demand in the market.

70% of energy savings (compared to hammer crushers) because of the contained motorization, which is only 8 KW in the biggest model.

the caps of the bottles are detached and can be easily separated with the metal separation machine.

low emission of powder, because it crushes the glass and ceramics without pulverizing it.

has a mechanical safety system for not crushable objects.

low price compared to hammer crushers.

high quality components and strong structures of the machine guarantee a long life and reliability of the construction.

crushers are engineered for minimal and easy maintenance and smart operation day to day process.

can be used independently or easily integrated in your total system to improve your materials processing.

Cogelme glass crushers are completely custom-designed to fully meet your specifications.
CUSTOMER'S RESULTS
The glass is crushed irreproachable – in optimal dimension, without loosing it's value. The final material fully satisfies and meets the glass workers objectives. Not only that, but also saved client's costs and increased processing capacity.
Beverage destruction line for beer, alcholic, wather, beverage, medicines.