Magnetic grate separator - mod. FM
Magnetic grate separator is used for complete iron particles elimination from fine sized materials: milled particles, powder, food in paste, farinaceous, etc.
Magnetic grate separator is suggested when there is low emission of iron inside material.
Magnetic grate is usually inserted in silos and in pipelines. Cleaning of internal powerful Neodymium magnetic bars is usually done manually with pressed air: opening a sliding drawer, pieces of stuck iron can be easily removed. Automatic systems for filters cleaning is also available.
Magnetic grate separator's measurements can vary according to the client's requirements.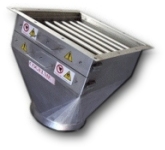 Magnetic grading machine - mod. CM
Separates ferrous metal from granulated material of medium-fine dimensions.
Magnetic grading machine is made of hopper with a magnetic drum with Neodymium or Ferrite permanent magnets.
The function is very similar to the magnetic drum: material is being downloaded through the hopper on the surface of the magnetic drum, which retains ferrous metals and downloads separately from non-ferrous materials.
Internal magnetic drum can be manufactured with permanent magnets of Ferrite or of Neodymium (very powerful). The body of the equipment is made of stainless steel.
Ferrous metals are detached automatically and no particular maintenance is needed for the machine.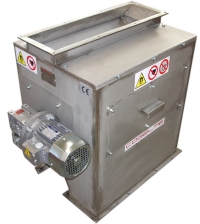 Visit our New site WWW.COGELME.IT