MAGNETIC SEPARATOR - PURPOSE
Overbelt or Overband magnetic separator deliver precise and efficient sorting of ferrous metals from inert materials (glass, coal, plastic, paper, wood, garbage, fertilizers, etc.) and non-ferrous metals (aluminium, stainless steel, copper, brass).
The Overbelt magnetic separator is widely used by various waste recyclers for valuable material extraction and in such industries as plastics, glass, wood, paper, food, foundry, etc. to improve product purity and protect processing equipment from damage.
Due to our extensive experience we will determine with you an optimal solution to your specific need. We realize that we all win when we work together.
visit the gallery
HOW THE MAGNETIC SEPARATOR WORKS
Overbelt magnetic separator is placed crosswise or lengthwise above the conveyor tape at a fixed working distance. From flowing material iron objects are "captured" by the magnetic power and with the overbelt magnets carried away. When the iron objects leave the area of the magnetic field they automatically drop into appropriate canals or containers.
Our engineering solutions offer you remarkable efficiency in iron extraction. This unprecedented level of sorting purity and efficiency is made possible thanks to high powerful, far-reaching magnetic fields and machines development for your specific needs.
Cogelme produces different permanent magnetic separator and electro magnetic separator types. The most suitable type to your situation depends on installation height, your material dimensions and the materials layer thickness.
visit the gallery
OVERBELT MAGNETIC SEPARATOR MODELS
Magnetic Separator with Permanent Magnets:
with Ferrite magnets - mod. SMF - are the most used for optimal extraction of middle size ferrous metals;

with Neodymium magnets - mod. SMN - for optimal extraction of little ferrous metals parts: iron dusts, little pieces of wired glass, iron powder and etc.
An advantage of a permanent overbelt magnetic separator is free magnet maintenance and no need of electrical current for generation of the magnetic field.
The magnetic separator suggestion for the best processing separation in your situation mainly
Visit our New site WWW.COGELME.IT
depends from: kind of material, dimension of material and material thickness on the conveyor tape.
It saves your costs, gives a high degree of operational security and ideally suites for application on mobile installations.
Cogelme uses strong permanent magnets to generate their magnetic fields. The special engineering principles of a Cogelme permanent overbelt magnetic separator make it possible to adapt the magnetic field to the specific customers situations and precisely extract ferrous metals.
Overbelt Electro Magnetic Separator mod. SEM
For perfect extraction of heavy ferrous metal pieces or ferrous metal extraction from high thickness materials (till 500/600 mm.).
Our electro magnetic separator demonstrates especially big magnetic power. Due to its high magnetic strength is extremely effective in big metal scraps extraction. These machines are built using 1st quality and stroger components that guarantee to all clients to work also in very difficult situations.
Cogelme engineering achievements assure perfect sorting characteristics in different customers situations.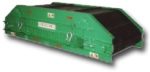 visit the gallery
CUSTOMER'S ADVANTAGES USING A
COGELME MAGNETIC SEPARATOR
A big power on all the width of the separator created by extra long magnet body , that ensure an especially good and clean iron ejection.

Special internal security system for keeping the magnets ensure safety for customers and machines.

Machines are reliable and serves very long because of their resistant and strong structures, high quality components.

Also a possibility to change the shafts of the rolls extends the live of the machine and minimizes the costs.

Clients find machines maintenance simple and quick, as big importance to this is paid engineering the machines (for example it is possible to change the tape without disassembling the machine).

Minimal running costs.

Can be used independently or as part of a total system.

Very cost effective and high quality machines.

We understand each customer's unique needs and design a separator accordingly.
CUSTOMER'S RESULTS UNING A
MAGNETIC SEPARATOR COGELME
Extracted pure iron scrap, increased profitability and excellent integrated machine for a comfortable long-term use.